Looking for great Free Facebook Apps?
I have put together a list, using one of my favorite sites, list.ly, to show you a few of my favorite Facebook Apps that I always integrate with the majority of my clients Facebook Pages, of course not all of them are required for each type of business niche, but you can decide that.
Also check out my recent post about linking Pinterest to Facebook, a must have app.
Just for those who are a little vague on Facebook Apps, what we are referring to is the Tabs that site under the cover image, to the right of the logo image, on a Facebook Business page. These tabs are not available for profiles or groups. This is another reason why you must have a Facebook Business page,. not a profile, for your business.
Just a quick note, my favorite App, and yes its our proprietary app, the Facebook Business Page Tab Rotator, is just down at the moment as we are changing servers. But shouldn't be for much longer..
If you have any questions, feel free to ask
My Favorite FREE Facebook Apps
Here is a list of a few of my Favorite and FREE Facebook Apps/ tabs. Perfect for assisting in creating greater engagement to your Facebook Business Page.
While not all these are free, most are and the ones that arnt have great trial offers or Lite services. So certainly worth checking them out. Also feel free to check out my website www.thedigitalmediastrategist.com

Static HTML Iframe Tab by Woobox on Facebook | Facebook.

This is my favorite, simply by its ease of use.

Also has Twitter, Pinterest, YoTube and other links within this app.

A must have!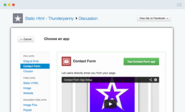 This simple to use product makes adding content to your Tabs on Facebook easy. Its a bit of a one stop shop. works well!

What Thunderpenny Offer

Our social media tools and software make it simple to use Facebook fan pages for business. We have a variety of apps, including video, maps, drag & drop, paypal, contact form and more to help your business get more likes, leads, and sales.

Discover the easiest way to create fully customized Facebook tabs, promotions and contests.

ONLY FREE for basic service!

Tabmaker lets you create your own custom Tab with virtually any content. Use our free HTML editor to graphically design your page and then add it to your fan page using our new Website Tab application. To get started, just click the Enter TabMaker link below to start the utility.

Build custom Facebook apps and photo contests

FREE up to 2000 fans on your Business Page!

This is a cool tab, allows you to simple create a FaQ's page on your Facebook Business Page. FaQ's are a great way to get your services known by potential customers. And its free!

Add an extra layer of interaction to your Facebook page by showcasing a "fan of the week". Fans can apply to get picked. Other fans can then vote which fan they think should get the coveted title. The most voted on person can either be automatically chosen, or an admin can make the choice manually.

IDEAL for fan engagement!

Add in just one click a contact form for your Facebook pages. Very convenient for your fans contact you. The application is free and very easy to use.

Keep the first impression for your Facebook Marketing "live", rotate the location of your TABS regularly so as to show your business is active on its Facebook Business Page!

This is a MUST have, if you want to REALLY engage with your customer/ fan base!

Forum for pages is the number one discussion board application for Facebook pages and allows fans to interact and engage directly from a Facebook page. Once installed, users can instantly create new topics, with full text formatting, including Images and videos.

Lastly my eBooks. They are not FREE im afraid, but very cheap, and worth the small investment!

"So Now You Have A Facebook Business Page - What's Next" This Facebook eBook for how to manage your Facebook Buisness Page is a simple to read and comprehend formula for utilizing your Facebook Business Page to its maximum potential and assisting you; with very little work; to build an enormous Fan Base and in turn sell your business's goods or services.
Related articles